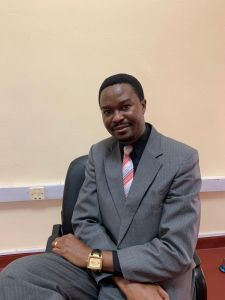 Name:  Dr. Benedict Maige Nchalla
Positions/Status:
Dean, Faculty of Law
Chair of the Faculty Board
Lecturer in Law
Advocate of the High Court of Tanzania and Subordinate Courts thereto
Listed Legal Counsel of the African Court on Human and Peoples' Rights
Contacts:
Phone: +255-679-021-600
Email:nchallaben@yahoo.com
Qualifications:
SJD (Summa cum laude) – Human Rights and Investment Law (University of Arizona, U.S.A)
LL.M – International Law (University of Cambridge, U.K)
LL.M – Human Rights and Democratization in Africa (University of Pretoria, S.A)
LL.B (First Class Honours) – (Tumaini University, Tz)
Membership of Professional Bodies:
Tanganyika Law Society
East Africa Law Society
Profile:
Dr. Maige Nchalla is a law graduate from the prestigious University of Cambridge in the United Kingdom. He is a faculty member in the Department of International legal studies, Commercial Law and Finance Law, who joined the faculty as a Tutorial Assistant on the 26th day of June 2006 and ascended to the academic rank of a Lecturer which he currently holds.
In August 2018, Maige Nchalla joined the University of Arizona in the U.S.A. for the Doctor of Juridical Science (SJD) Degree studies and successfully defended, passed his viva voce examination with a very rare verdict of "Without corrections" and graduated in May 2021. Prior to the attainment of the Doctor of Laws degree, he had received his Master of Laws (LL.M) degree in International Law from the World-class University of Cambridge in the U.K., an LL.M degree in Human Rights and Democratization in Africa from the Centre for Human Rights, University of Pretoria in S.A. and graduated his LL.B degree with a First Class Honours from Tumaini University, Iringa University College (currently the University of Iringa) in Tz, way back in October 2005. Before joining Tumaini University Makumira, he attended and completed successfully the compulsory Internship under the supervision of the Ministry of Constitution and Legal Affairs.
He is a recipient of the prominent Commonwealth Scholarship, DAAD-German Academic Exchange Service Study Scholarship, Williams Achievement Award, Charles A. Kirtley Memorial Scholarship, Bertha B. Hollis Scholarship and Shell Centenary Scholarship.
Dr. Maige Nchalla is an Advocate of the High Court of Tanzania and Subordinate Courts thereto, a Notary Public and Commissioner for Oaths within Tanzania Mainland jurisdiction since December 2011. He is also a listed Legal Counsel at the African Court on Human and Peoples' Rights, the continental judicial organ of the African Union.
His research agenda is premised on Business and Human rights issues, particularly on the sustainability of the Bilateral Investment Treaties' legal framework to address Multinational Corporations' impunity for violations of Human and Environmental Rights in Africa.
He has conducted training programs on indigenous peoples' rights and the African Human Rights System, Corporate Social Responsibility, Corporate and Corporate Governance Laws, International Law, Cyber law, and International Criminal Law.
As an established and a well trained lawyer, both locally and internationally, he is skilled and has competence in drafting investment agreements, among others.
He has authored a Book, a Book Chapter, and numerous academic articles on various legal issues in international and local journals.
Publications:
Benedict Maige Nchalla "Absenteeism of Exhaustion of Local Remedies Requirement in Bilateral Investment Treaties: An Impediment for Protection of Indigenous Peoples' Rights" Transnational Law Review, (Forthcoming publication in the U.S.A, Fall 2022)
Benedict Maige Nchalla "Indigenous Peoples' Rights vis-á-vis Investment Projects in Africa: A Conundrum in Bilateral Investment Treaties" TUMA Law Review (Forthcoming publication, 2022)
Benedict Maige Nchalla "The Quest for Corporate Accountability Measures in Bilateral Investment Treaties" 9 Belmont Law Review, 149 [2021]; available at https://www.belmontlawreview.org/articles/volume-9-issue-1-2021/
Benedict M. Nchalla & Tusekile A. Mwakalundwa "Crossing the bridge towards gender equality: Sexual harassment in the public sphere in Tanzania" TUMA Law Review, Volume-4-Number 1-May (2016) 1-36 ISSN 1821-8539
Benedict M. Nchalla & Castro Pius Shirima "The law of armed conflict and the question of the global war on terror: A critical analysis" TUMA Law Review, Volume-4-Number 1-May (2016) 206-242 ISSN 1821-8539
Benedict Maige Nchalla "Tanzania's experience with constitutionalism, constitution making and constitution reform" in MK Mbondenyi & Tom Ojienda (eds.) Constitutionalism, constitution making and constitutional reform in Africa: Contemporary perspectives from Sub-Saharan Africa (2013) 15-50. Pretoria: Pretoria University Law Press (PULP). ISBN 978-1-920538-14-9; available at https://www.pulp.up.ac.za/edited-collections/constitutionalism-and-democratic-governance-in-africa-contemporary-perspectives-from-sub-saharan-africa
Benedict Maige Nchalla "Waging a war against the status quo: The way forward towards ensuring the mutuality of human rights and development endeavours in Africa" TUMA Law Review, Volume 1-Number 1-November (2012) 47-64. ISSN 1821-8539; available at https://heinonline.org/HOL/LandingPage?handle=hein.journals/tuma1&div=7&id=&page=
BM Nchalla Impact of FDI on Socio-Economic Rights of Indigenous Peoples in Africa: The Barabaig and Basarwa (2012), LAP. ISBN 978-3-8465-8406-4; available at https://www.amazon.com/Impact-Socio-Economic-Rights-Indigenous-Peoples/dp/3846584061