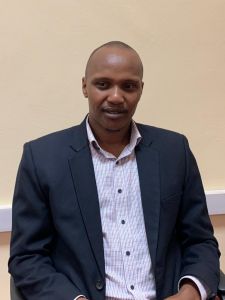 Name: Mr Frank Luther Akyoo
Position/Status:
Assistant Lecture
Contacts:
Phone: 0756427679
Email: akyoos@yahoo.co.uk
Profile:
Frank Luther Akyoo teaches law at Tumaini university Makumira Faculty of law (Arusha Tanzania) since 2011. He graduated with Bachelor of Laws (LL.B) from Tumaini University Makumira in the year 2009 and later recruited as Tutorial assistant in the year 2011. On completion of his Master of laws (LL.M-International laws) from Mzumbe University in the year 2012, He was appointed Assistant Lecturer. He currently  serve as the Coordinator of the non-degree programmes at Tumaini University Makumira Faculty of Law.
Frank Luther Akyoo has published Journal articles on the local Journal owned by Tumaini University Makumira, Faculty of Law and has attended various seminars and conferences within and outside Tumaini University Makumira including: Training of Trainers workshop on environmental and climate law pharse I & II, organised by University of Dar es salaam School of law in collaboration with university of Oslo under PITRO III Project held at Arusha on 2011 and 2012 consecutively and the Training on "Developing the Teaching and Learning Methodology' organized by DANMISSION and TUMA on August 2016 to January 2017.
Frank Luther Akyoo teaches the following courses (among others): Legal Methods; Human Rights Law; Commercial Law; Labour Law; Business law; Law of contract; and Administrative law.
Publications
The Concept of High seas and Legal Principles Governing Jurisdiction over Ships Exercising the Freedom of the High Seas. TUMA LAW Review Vol. 1:2012
State as a Provider: The Right to Education to Children with disabilities. A case study of Meru District in Arusha (LL.B dissertation,2009 unpublished)
The Protection and Implementation of the right to work in Tanzania in Light of the Current Development in International Human Rights Law (LL.M dissertation, 2012 Unpublished)
Understanding the Right to Work: A Review of Current Developments in International Human Rights Law. TUMA LAW Review Vol, 6: Issue 1 & 2, 2020